If you've been considering selling your Fairfield County home, now's an opportune time to do so. If you're ready to take advantage of this seller's market, one of the first areas worth focusing on is curb appeal. Your home's exterior aesthetic is what establishes a buyer's first impression of your property, and it determines whether a potential consumer even wants to look inside your house. To maximize the value of your Fairfield County home, below are eight ways to improve curb appeal.
Spruce up your entryway
Your
front door
is the focal point of your home's exterior, and thus should reflect the same degree of care as the rest of your front yard. Try a fresh coat of paint and a new color to keep your front door looking its best. Adding new hardware can spruce your entryway, especially if you choose a metal that contrasts with the door's paint color, like brass hardware on a black door.
When it comes to painting, don't stop at the front door. A fresh coat of paint can typically last anywhere from 10-15 years, but if you notice issues with the siding or significant peeling and chipping, it's probably time to hire a professional and update your home's exterior. Consider repainting your house numbers, adding trim, replacing the doormat, or changing out the light fixtures.
A welcoming front porch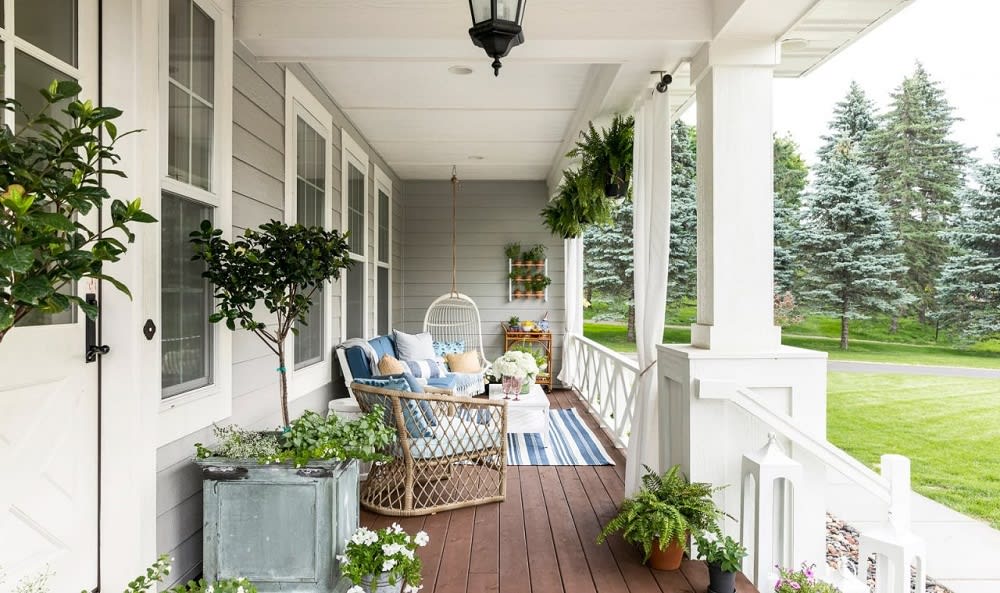 You might spend less time on your front porch during the colder months, but that doesn't mean you should let it fall into disarray. The porch reflects what people see when they go inside your house, meaning you want it to look inviting and cozy. Easy ways to improve your front porch are:
Add a swinging bench, a small table, or chairs, depending on permitted space.

Decorate seating with cohesive cushions and throw pillows.

Utilize weatherproof furniture and decor.

Add an outdoor rug.

Add lanterns or remote-control candles to create cozy secondary lighting.
If you add furniture and decor to your porch, you'll need to ensure they don't get damaged by weather. Even all-weather items still need regular cleaning and maintenance. But the extra work will be worth it when buyers see your welcoming set-up.
Curate a garden with seasonal plants
Gardens are a pleasant way to brighten your front yard, but they won't do you much good if half your flowers have died due to the change of seasons. Plant hardier flowers that stay green, and even bloom during the winter months. Roses and deciduous shrubs can be planted early in the season before frost and snow permeate the ground. You can also utilize sturdy annuals like petunias and marigolds, which will survive the winter and bloom in the summer.
If you know you'll be marketing your home in the winter, plan ahead by planting winter flowers like camellias, pansies, snowdrops, and forsythia bushes, which will blossom in February or March. Not everyone has the time (or the green thumb) to manage a garden effectively, and that's okay. If you aren't confident with your gardening skills, you can keep things simple with standing planters, window boxes, or even a hanging plant on the porch. Even one elegant flower arrangement can do wonders for your home's overall appearance.
Invite wildlife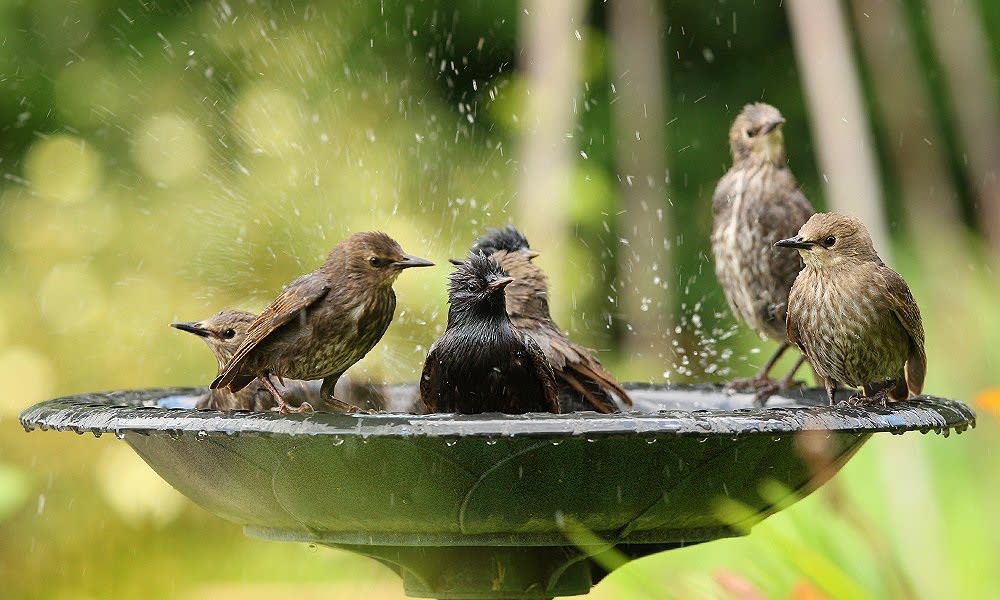 A fun way to liven up the dreary winter months is to add a birdbath or a bird feeder to your front yard. There are feeders meant for squirrels and other woodland creatures you can add to your yard. You can also add a salt lick for deer or elk.
Manage snowfall and leaves
Fairfield County
averages 33 inches of snow per year
, so odds are that you will have to contend with snow and ice at once. Allowing snow to pile up, gather dirt, and turn to slush is an easy way to negatively impact your curb appeal. Take time to shovel or use a snowblower to keep pathways and steps clear and safe.
The same rules apply to the leaves. Don't force buyers to trudge through layers of dead leaves to get to your front porch. You should keep up regular raking to clear your lawn of fallen leaves and debris. Buyers want to see a tidy and well-manicured yard. The path to your entryway should also be clean and well-defined. If you don't have a path, you might consider adding one.
Keep decorations to a minimum
Whether you're a Halloween fan or get really into the Christmas spirit, you should reign in your decorative urges if you are selling your home. This doesn't mean, however, you can't decorate for the season at all. Just stray away from massive inflatables and over-the-top roof decor. These kinds of items can be off-putting to buyers. Opt for smaller, subtler decorations like a simple wreath or a single string of lights along the porch.
Make exterior repairs
Left unattended, missing shingles and gutter issues can make your property look run down. Worse, if this kind of damage is not fixed, it can lead to more substantial damage later on. Not only should you make these repairs for the sake of curb appeal, but they will likely come up during a home inspection anyway.

Get ahead of the game and consult with a roofing expert to give your house a once-over and advise on areas that could use upkeep. Along those lines, you should manage the siding on your home. If you notice any mold or warping, it might be time to invest in some preventative maintenance to ensure you don't end up paying for expensive and significant siding repairs.
Update your mailbox
You might not think a mailbox would make much of a difference, but if your mailbox is old and rusty, it will stand out against an otherwise well-maintained house. In some cases, all you need to do is give your mailbox a fresh coat of paint, but if it's an old one, you might be better off replacing it altogether. Swap out the dated model with something more stylish. You might even consider adding a few shrubs around the base or framing the mailbox with flower pots.
Looking for real estate in Fairfield County?
Fairfield County is currently riding the strongest seller's market in its history. If you're interested in taking advantage of the current Fairfield County real estate boom, contact the
Marchesi Group
. This award-winning team of real estate professionals will aid you in improving your property's curb appeal—and in pricing, marketing, and selling your Fairfield County home.