With spring right around the corner, now is the perfect time to start thinking of ways to get outside! Doing recreational activities outdoors can be a great way to connect with nature, get some fresh air, and make memories with your family. From hiking to nature centers to beaches, Fairfield County has a plethora of ways that will inspire you to spend time in nature. Here are 14 ways to get outside in Fairfield County this year.
Darien Nature Center
Nestled in the heart of Darien's Cherry Lawn Park, the Darien Nature Center features educational and interactive activities purposefully designed to foster an interest in and respect for the natural world. This state-of-the-art facility is home to numerous animals, a gallery, library, and classrooms for our nursery school programs. The animals housed here vary from rabbits to turtles to screech owls to prairie dogs. Be sure to keep an eye out for the exciting calendar of community-wide events! From events such as the fall dinner event for adults to the popular Hoot and Howl event, this nature center has a little something for everyone.
Woodland Park Nature Preserve
For an afternoon exploring the lush Fairfield County wilderness, Woodland Park Nature Preserve is just the place. Dense with shade trees and winding trails, this sprawling natural landscape is perfect for a family outing or a solo hike. Stretching 64.7 acres, this stunning park boasts plentiful educational opportunities, and the parkland has been lovingly maintained by the Friends of Woodland Park committee. 
Pear Tree Point Beach
For a rejuvenating beach day, head to Pear Tree Point Beach in Darien. Touting eight acres of sand, Pear Tree Point Beach is one of the county's most breathtaking beachfronts, and it's an excellent destination for beachcombers and families alike. Pack a picnic or cook lunch at one of the on-site grills and stay for a sunset walk along the sands. 
Bartlett Arboretum & Gardens
Located in Stamford, the Bartlett Arboretum & Gardens is a perfect getaway to connect with nature. Comprising 93 acres featuring parkland, gardens, landscapes, and hiking trails, you can explore, enjoy, and learn about the habitats of the natural world. Be sure to keep an eye out for the concerts and events that regularly take place here. From floral design classes to drawing classes, these classes promise an educational and enjoyable time. 
Waveny Park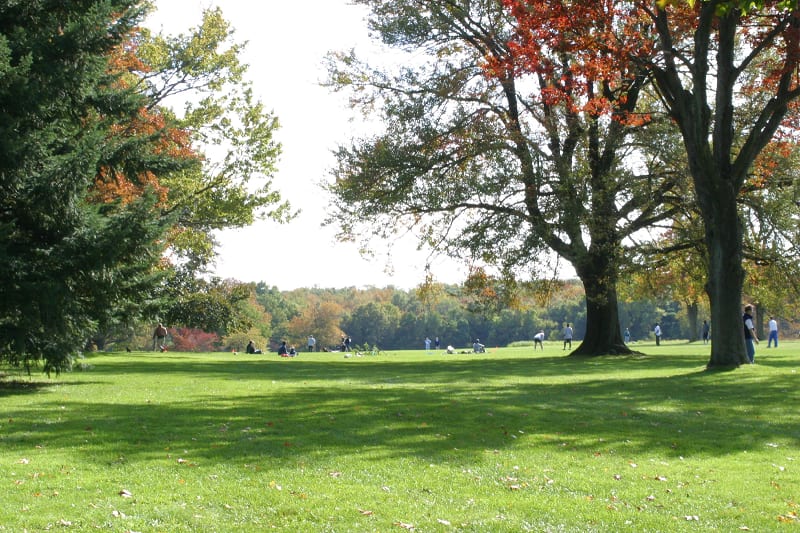 Credit: New Canaan
If you live in New Canaan, then you certainly don't want to miss out on Waveny Park. This luscious park is spread over an expansive 300 acres of fields, ponds, and trails. Additionally, residents can walk or jog on the 3.5-miles of trails. There are also opportunities for soccer, baseball, swimming, and softball. The pinnacle of the park, however, is "the castle." Constructed by William Tubby, this regal castle was built in 1912. Whether you're having a picnic in the picnic area, exercising at the sports courts, or perhaps just taking advantage of the sunshine, you don't want to miss all this park has in store. 
Bristow Park Bird Sanctuary 
The Bristow Park Bird Sanctuary is located just south of New Canaan's vibrant downtown. Bristow Sanctuary and Wildlife preserve was established in 1924 as bird watching started to gain popularity in the area. The thoughtful design of the park encompasses a variety of walking trails, a tranquil duck pond, and several trickling streams and brooks. This 17-acre park is home to a colorful array of species, including everything from warblers, tanagers, vireos, and woodpeckers. Archival documents from 1924 specify 100 different bird species in the area! If you enjoy bird watching, then this is the perfect haven for you.
New Canaan Nature Center
Spend a day connecting with nature at the New Canaan Nature Center, which has been a part of the community for the past 60 years. Located 25 miles north of the heart of New Canaan, this nature center also features a botanical garden, arboretum, and nature preserve. The goal of this nonprofit environmental organization is to protect, respect, and enjoy all that nature has to offer. New Canaan Nature Center offers exciting activities for the whole family. Enjoy weaving your way through the boxwood mazes in the Children's Play Garden, participate in a scavenger hunt, or visit the birds of prey.
Bayley Beach
Enjoy some much-need rest and relaxation by the water at Bayley Beach! Located in Rowayton, this local beach has plenty to do, and its resident-only access keeps crowds at bay. Check out the children's playground, basketball court, or volleyball area. Or, of course, soak up the sunshine sunbathing or picnicking on the sandy beach. Barbecues are available for those who are wanting to create a relaxed meal on the seafront. Whether you're visiting to swim in the water or simply catch the sunset, this is a place that you don't want to miss.
Cranbury Park
There's little that is more refreshing than escaping from the hustle and bustle of the city! Thankfully, you can do that at Norwalk's very own Cranbury Park. This spacious park spans over 227 acres and features wooded trails and even a dog-friendly environment in the orchard. If you're looking to improve your golf game, head on over to the 18-hole Disc Golf Course. This golf course weaves in and out of the woods, creating a picturesque playing experience. The Great Lawn is a popular location for celebrations to be held, from wedding receptions to festivals. Additionally, the park also features a quaint limestone Tudor Revival mansion. The mansion, which was constructed in 1930, is decorated with regal carvings, colorful stained-glass windows, and elegant walnut-paneled rooms. 
(Photo Credit: Friends of Cranbury Park)
Matthews Park
Located just off of I-95 in Norwalk, Matthews Park is one of the most popular parks in the area. With so much to do here, it's not hard to understand why. Matthews Park comprises two museums, an arts center, a playground, tennis courts, picnic areas, and a historic cemetery. If your children are ages ten or under, be sure to take them to the Stepping Stones Museum for Children. They'll be sure to love this hands-on museum. As if it's not enough, this illustrious park is also home to the Lockwood-Mathews Mansion. Built from 1864 to 1868, the mansion is a Second Empire style country home. It encompasses a shocking 44,000 square feet and consists of 62 rooms. Declared a National Historic Landmark in 1978, this mansion gives a glimpse of the area's rich and fascinating history. 
Calf Pasture Beach and Shady Beach
If you're looking to get out of the house and spend some time outside, then we've got the perfect place in mind for you! Calf Pasture Beach and Shady Beach, located in Norwalk, offers much to do every day. In addition to the sandy beach supervised by lifeguards, this park features a grassy, tree-shaded picnic area, splash pad, and swings. And that's not it. Here you can also try your hand at volleyball, the skate park, sun and sand sports, and much more. Want to get out on the water on your kayak? Perhaps consider renting a space to hold your kayak right on the beach! If that's not your cup of tea, then come relax and take in the 3/4 mile of scenic coastline views. This local beach also hosts a number of events throughout the year—from classic car shows to entertaining free concerts.
Cove Island Park
Cove Island Park, located in Stamford, could hardly be a more idyllic setting. With luscious, shady-trees, a spacious lawn, a children's play area, a one-mile walking trail, two sandy beaches on the water, and a rollerblade path, this quaint, resident-only park has it all. If you prefer birdwatching, then there are opportunities for you to do that here, too. Holly Pond and the Cove River provide opportunities for bird watchers to observe water birds. Get your heart rate up while jogging on the 1-mile loop and or fly kites on the grassy lawn. Whatever you do, you'll love creating unforgettable memories with your loved ones here. Before heading over here, keep in mind this park requires a parking pass. (Photo Credit: Tripadvisor)
Heritage Way Park and Trail
Hiking activities that suit the whole family can be hard. But don't worry, we've got one in mind for you. Heritage Way Park and Trail is a 1.2-mile trail that is great for all ages and skillsets. Here you can enjoy scenic views as you hike along the banks of the lake. Although accessible year-round, this trail is especially noteworthy in spring and fall. Marvel at the wildflowers emerging in the spring or watch the fall colors change here in the fall.
Stamford Museum & Nature Center
Nestled in Stamford, the Stamford Museum & Nature Center allows you to learn firsthand about the state's incredible wildlife. Much more than a boring museum, this center also comprises an art, history, nature, and agricultural sciences museum. The property covers an expansive 118 acres. Although originally a private estate, the museum and nature center are now open to the public. Pay attention to the calendar, which is packed with exhibitions, festivals, and community events. If you want to get more involved, then consider joining the weekend workshop or youth and family programs available. This interactive center has something for everyone, despite your age!

If you are looking for homes for sale in Connecticut, contact Marchesi Group today. As one of the most sought-after real estate agents in the area, Bob serves a wide range of neighborhoods. From waterfront homes in Connecticut to single-family homes, Bob will help you find the perfect property for you and your family.